Provence triggers images of lavender, sun flowers and olive trees. Many have read the enjoyable novels written by Peter Mayle, visited anything Van Gogh in Arles and mused over the paintings of Cézanne. Everybody knows all areas of the Provence, or so they believe.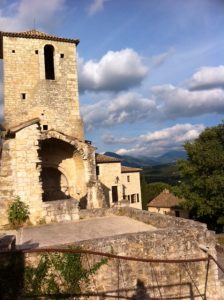 There is a part of Provence less famous and therefore much less crowded than the Lubéron and the Midi. It is not a fancy area with famous wines or Michelin star restaurants but it breaths the country in the most natural way I've ever come across. Here's the thing though: I'm partial. I have been coming to this part of France since my childhood and every year I come back.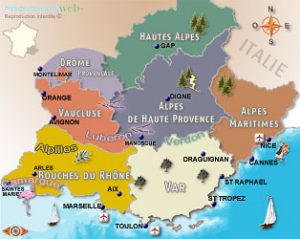 Just north of the famous Provence area lies La Drôme. It belongs to the Rhône Alpes region, but although it is not officially part of the Provence Alpes Cote d'Azur region, it certainly has all the characteristic features of a Provençal department. The southern part of the department is referred to as La Drôme Provençale.
This is where the clouds give way to clear blue skies and where lavender and cicadas start to appear. In the Drôme Provençale rolling hills of vineyards mix with lavender fields and olive trees. Your eyes are treated on green, purple, yellow, brown and another green yet again; Olives from Nyons, truffles to be found under the oak trees and an unaccountable number of goat cheeses like the picodon to be discovered at the local markets. Just as in the famous area of the Provence, the colors and smells seem to have another dimension.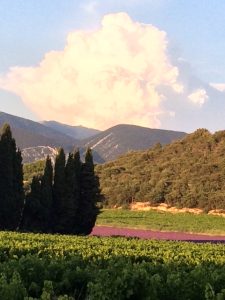 During the busy summer holidays I follow the news of the "Black Saturdays" on the European motorways. The AutoRoute in France tops it yet again when almost 1.000 km of congestion, traffic jams and overheated cars (let alone the people) grind France to a halt. I shook my head then but smiled inwardly: my time to travel down was approaching.
The fall is the season I consider the most beautiful part of the year in "My area". It has sunny days but cooler nights accompanied by a sky bursting with stars and a clear moon. Tourists are there but in different categories: it is the time of hikers and cyclists; of older people making their quiet trips and of students coming for the grape-picking jobs in harvest time; everybody has their own intention following their own rhythm of life.
After cruising at an easy pace down the AutoRoute I I arrive ten hours later at what I secretly like to refer to as "My house". The bikes are already put in place by the kind owner and a bottle of Rosé is chilling in the fridge. Overlooking the valley I sip my glass and exhale for the first time.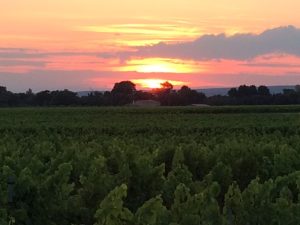 The next day after spending a nice time in the supermarché, I stop for "a petit verre" on my regular café terrace. Without asking a small glass of local rosé wine appears in front of me together with a bowl of olives. I am in charming Nyons, also called Le Petit Nice. It is that time of day when the hikers roll down the mountains and occupy part of the terrace with their sturdy boots, backpacks and laughter. Most of them come from the Vercors following the Grande Randonnée 9, one of France's long distance walking tracks. Nyons is a popular stop to rest and replenish.
La Montagne de Vaux is a part of this GR9 and I walk it often with the dog as it is accessible from the house and easy to follow by its color-coded markings of red and white. The hike crosses three cols and takes five hours altogether if you are in reasonable shape. The track finishes right in Nyons where the terrace is an oasis to collapse on for a long well-deserved lunch.
The other part of the terrace is taken over by a group of cyclists. They boast as if they have cycled one of the mountainous circuits of the Tour de France. Pastis and local beer were called for. I smile: It might not have been Alpe d'Huez but the hilly surroundings and the climb to Vinsobres are courageous enough. I know.
Driving back to the house vines stretch as far as the eye can behold. Although not famous like the Bandols from Le Midi, the wines of the Drôme are a nice treat to the taste buds: AOC "Côtes du Rhône" such as the Crozes-Hermitage; "Côtes du Rhône Village" from small villages Rousset les Vignes, Saint Pantaléon les Vignes and Vinsobres used canada goose coats https://www.canadagoosessale.org Canada Goose down replica fake, but to name a few. There is even a wine university in Suze-la-Rousse which I have not visited it yet, maybe this year. There is always something new to explore, even after so many years.
Not only nature but also culture and history can be found in abundance. The Drome Provençale is home to a number of beautiful medieval villages such as La Garde Adhémar and Le Poët-Laval. Often Romanesque features give a hint of a villages' long past. Grignan is one of those and home to the castle of Madame Sévigné. Grignan hosts many festivals in the summer for those brave enough to endure the AutoRoute and busy secondary roads. I managed it once and the "Festival de la correspondance", or the literary festival, in July is well worth it. Maybe next year again.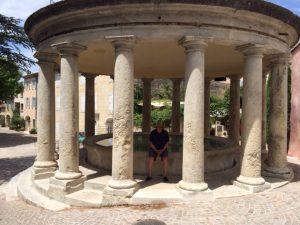 La Drôme Provençale, "My Midi". The climate is Mediterranean, the colors are incomparable and the rhythm breaths life as it should be. One of France's well known chansonniers, Gilbert Bécaud put it aptly: "C'est en Septembre que ma pays peut respirer". Time to exhale indeed.