We, northern Europeans envy the French. Their country has it all: it ranges from endless vineyards, rolling hills, impressive mountains to charming villages, nostalgic Mediterranean resorts, Provençal colours and of course elegant Paris. But we discovered there was even more, Magic Morvan.
We escaped our own flat and rainy country for a brief break and jumped in the car without much of a clue where we were headed. South in any case but not too far. A weekend on the French Autoroute in high summer season is asking for trouble; you might reach your destination in the end but if your relationship is still intact by then, is questionable.
We ended up in one of France's lesser known regions, the Morvan. Nestled next to famous vineyards, it has often been called Burgundy's dull little sister: trees, fields, hills and cows. Lots of white Charolais cows.
We left on Friday to avoid the considerable traffic of a "red Saturday". When people still owned one car instead of two, these Saturdays used to be called "black Saturday"; a notorious and almost traumatic experience on the French roads. We arrived at our small B&B, too late for dinner. Too late? It was not even nine with a sun still casting its last, soft orange rays over the fields. What in heavens name do you mean too late? The kind owner explained that people ate earlier in the Morvan and kitchens would not accept guests this late. She produced a bottle of red, a fresh baguette and a plate of charcuterie, cheese and cornichons to tie us over till morning.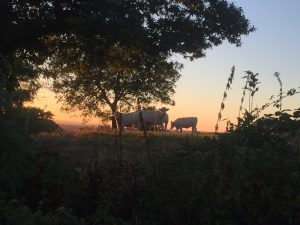 Slumped in two lazy chairs with the dog at our feet, we saw the sun set over the hills and the cows having their own late snack. I realised they had this marvellous view every night.
Nights are cooler than in the South which makes you sleep like a log (or was it the red…) and reenergised we explored the region, starting with historic Vezelay on the Northern edge of the Parc naturel régional du Morvan. The powerful Abbey has a magnetic draw and although busy with visitors that time a year, it is well worth the visit. The restoration after the French Revolution has saved this Benedictine masterpiece and although its very debatable if Vezelay ever held the relics of Mary Magdalene, it does have a stunning alignment with the sun. It shows how clever people already use to be in the old days.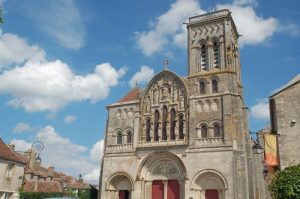 It is a UNESCO World Heritage site, one of France's historic jewels and from 1920 onwards it earned the grand title "Basilica".
The late night picnic had agreed with us. After a short stop in a sleepy village with a surprisingly large and well stocked supermarché, we headed off to the lakes located in the middle of the Parc.
Driving in the Morvan, the countryside changes on you all the time. Dense woodlands with trickling streams suddenly open up to lakes or endless wide spaces of hedged farmlands that delight. Roads curve and  sometimes turn single file to cross small bridges that seem sturdy enough but can rattle ominously beneath your wheels. After an hour of casual touring on the curvy roads, we reached the Lac Pannecière, Morvan's biggest lake.
A beautiful place in a wooded hillside setting, we didn't guess it was artificial but the lake was built to regulate the water of the Seine. Pannecière Lake is now a popular destination for fishing, horse riding, canoeing and hiking. Especially the canoeing seemed a favourite as laughter floated from the numerous little boats dotting the water.
We pushed on to explore a bit further. We passed the smallest chapel and turned into a small dirt road through the forest. The little road ended at a large pond hugged by trees. It was the perfect place for our picnic and let the dog out for a swim.
The regional park of the Morvan is large and stunningly beautiful with its mysterious forests, water, rolling farmlands and greenery. But one if its most attractive features is that even in high season it still has spots that are magically quiet. With our feet dangling above the water, we watched the dog and ate our sandwich in silence; the world was suddenly if only for a tiny little while, all ours.